Media
Glass Bead Media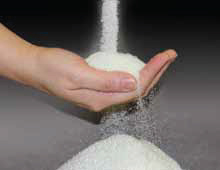 Superior Filter Media
Manufactured from pure glass, Glass Bead Media are a new generation of filter media, capable of providing water of superior clarity. Its spherical shape results in low coefficient of friction, reducing backwash requirements, saving pond owners both time and water.
3 micron filtration
20% less backwash water
High purity
Safe and smooth
Time saving
0.6mm to 0.8mm in size
Superior Clarity
Glass Bead Media have a small effective size of only 0.6mm to 0.8mm. Its narrow particle size range allows in-depth filtration and extends operating cycles between backwashing. Glass Bead Media have been laboratory tested to be able to effectively filter down to below 3 microns.
Save Water
Glass Bead Media's spherical smooth shape, results in a low coefficient of friction, reducing its backwash water requirements. Glass Bead Media backwashes with up to 20% less water than sand, saving time and water.
High Purity
Glass Bead Media are manufactured from pure glass and chemically inert. Glass Bead Media have been independently lab tested for leeching contaminants and found to be well within Australian Drinking Water Guidelines.
Safe and Smooth
Glass Bead Media are spherical and do not have any sharp edges. They are safe to handle and safe to service. If there is ever a failure of the filter's laterals and Glass Bead Media flow into the pond they pose no risk of injury to fish.
Time Saving
Glass Bead Media are easy to install and enables a rapid start up of the media filter. Its high purity means very little backwashing is required to cleanse the filter media, prior to commissioning the filter.
Chemical Compositions
Silicon Dioxide (SiO2)
70 - 75%
Sodium Oxide (Na2O)
12 - 15%
Calcium Oxide (CaO)
7 - 12%
Magnesium Oxide (MgO)
approximately 5%
Aluminum Oxide (AL2O3)
approximately 2.5%
Potassium Oxide (K2O)
approximately 1.5%
Technical Specifications
Filtration Media
Glass Pearl
Effective Size (mm)
0.61
Uniformity Coefficient
1.21
Bulk Density
1.61
Mohs Hardness
7.0
| Part Number | Size |
| --- | --- |
| 5900 | (1) 44lb. bag |
Clay Pellet Media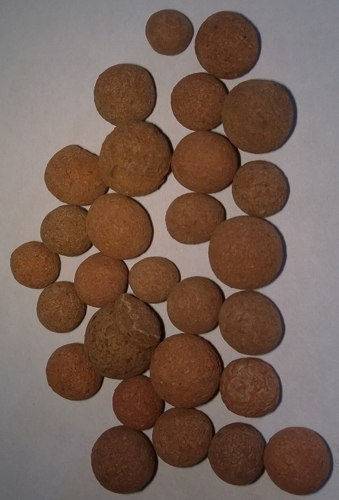 Multi-Functional Filter Media
Our Clay Pellet Media is a 100% pure, organic filter media that is finely ground into specific sized pellets (4-8 mm) and baked at a temperature of 1200°C inside a rotary kiln. Our Clay Pellet Media does not contain artificial additives, pesticides or dyes, and is a perfect filter media for a variety of applications.
Mechanical Filtration
Clay Pellet Media is a "fixed bed" filter media, which means that the media bed is stationary during filtering. Clay Pellet Media's shape and varied size provides efficient solid waste capture and water polishing. Additionally, our Clay Pellet Media weight/density initiates a more effective backwash by allowing the bed to expand, yet stay within the filter vessel as the waste is flushed out of the filter.
Biological Filtration
Our Clay Pellet Media's innovative production process results in a significant amount of surface area from the porous skin and core within each pellet. This surface area is far greater than any other filter media on the market today. Clay Pellet Media's porosity also offers a protective environment for nitrifying colonies of beneficial bacteria, and in turn, optimal bio-filtration. These physical characteristics allow for quick nitrifying bacteria regeneration after cleaning.
Strength
Clay Pellet Media's high mechanical strength allows it to be removed from the filter, easily cleaned and stored for re-use.
Basic Properties
Material: Expanded Burnt Clay
Grain/Shape: Porous/Round
Particle Size: 4-8mm
Physical Properties:

Particle Density Dry: 1080 +/- 50 kg/M³
Bulk Density: 600 +/- 50 kg/M³

Other Properties:

Optimal Surface Colonized Due to Porosity Level
Surface Area: 230ft²/gallon

Clay Pellet Media Bags: 1.77 cubic ft/65 pound bag
| Part Number | Size |
| --- | --- |
| 5901 | (1) 65lb. bag (1.77 cubic feet) |
Bio Blade Media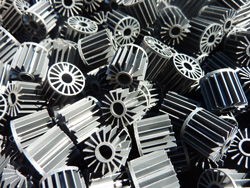 When used inside a pressurized filter the Bio Blade media is in a fixed bed position inside. During the backwash process, the mediabed is gently lifted upward and expanded, allowing for better solid waste removal and more efficient backwashing.
Bio Blade media's design provides highly protected surface area. The media has 228 ft²/ft³ of surface area for nitrifying beneficial bacteria to colonize. This surface area allows for efficient biological filtering in a compact footprint.
Bio Blade Advantages
Bio Blade media's size and density means no internal clogging of filter screens which is typical of small media filters.
An asymmetrical design allows for a high level of self-cleaning performance during backwash.
The 228 ft²/ft³ of surface area provides exceptional conditions for nitrifying bacteria.
NO blower required to backwash.
Can be used with low pressure/low RPM pumps
| Part Number | Size |
| --- | --- |
| 5906 | (1) 12lb. bag (1 cubic foot) |
Hi-Density Bio Sphere Media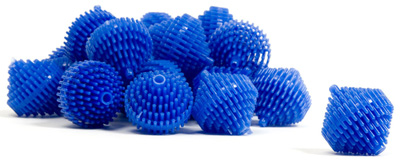 A Bio-Media specifically designed to provide optimum bacteria culture through appropriate strut and void allocation and correct flow-through dynamics.
State of the art filter media for use in fresh and salt water biological filtration systems. They may be connected together or randomly packed. Bio-sphere media helps create turbulance aiding in the gas exchange process. The void space is ideal for gas movement and allows optimum conditions for contacting and maintianing nitrifying bacterias living on the media surface.
One bio-sphere has 150 pins (drip-points). There are approximately 550 spheres per cubic foot and each cubic foot has approximately 150 square feet of surface area.
| Part Number | Description | Surface Area | Dimensions | Pieces |
| --- | --- | --- | --- | --- |
| 7816 | 4.5 ft³ box of Virgin Polypropylene Bio Sphere Media | 1 ft³ = 150 ft² of surface area | Approximately 1.7" in diameter | Approximately 550 piece per 4.5 foot box |